Core Information



Name: Felix Noel Carver
Nickname/Alias: Carver
Age: 18
Gender: Male
Birthplace: Pummelo Island, Orange Archipelago, Kanto.
Trainer Classification:  Adventurer
Character Tracker: LINK


---
Physical Attributes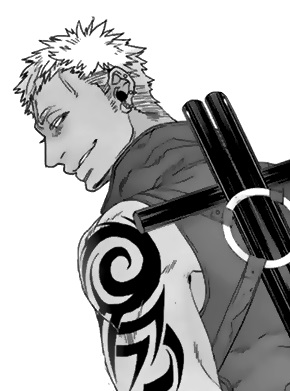 Height: 6'1"
Weight: 230 lbs
Appearance: Felix is not some kind of delicate person. His skin feels rough and dry to the touch. His body structure is well-built and muscular. Felix's skin is a darker tone, something like an umber brown. He has a tattoo on his left arm, in jet black ink and looks like a tribal tattoo. He also has various facial piercings, located in the following places; a small metal bearing is in the tip of his tongue, one small silver hoop on both his left and right earlobe, and above the hoop on each ear are two more piercings which are black and white with the black ball on the back of the ear and the white one resting inside the earlobe. He has a large nose, suffers from heterochromia as his left eye is a scarlet red, the left is a seafoam green. His hair is kept short and has an caramel colouration to it.

Felix does not have much for his attire. He wears a high collar sleeveless vest on his upper body that is zipped up. The collar has two large metal rings in a silver colouration. The vest itself is a charcoal black and has two seperate pockets near the bottom in the front. He wears nothing underneath with vest. He wears a pair of blood red skinny jeans and on his feet a pair of black leather boots. The jeans have the standard pockets on them, and he wears a ring on his left hand's middle finger, which is jet black. He wears a belt diagonally around his chest under his vest to carry Pokeballs, the belt appears to be the same colour as Felix's skin.
Defining Traits: Heterochromia(Seafoam left and Crimson right), Tattoo on Shoulder, Multiple Ear Piercings and Tongue Piercing.


---




Personality



Personality: Felix is fairly focused in everyday occurrences. Rarely does he let his mind wonder off the subject at hand, keeping his discussions clean and straightforward, linear and without leaving the intended path. Though he may have a strong lure of curiosity he does not allow himself to chase after something foolishly, never acting off of a whim. Default, Felix is very aloof and disinterested in things. Rarely does he come across as surprised by something and doesn't seem quick to react to others. He is not someone who acts in the heat of the moment, instead he thrives upon it. Even if he does not appear to be react he is plotting his next move. His reactions will vary based upon the people he is around. He doesn't let people who aren't close to him call him Felix, demanding they call him Carver instead.

Felix is not intelligent. He is adaptable and quick to catch onto a strategy, but in no way is he a genius. He doesn't much seem to care if people beat him down or anything like that, shrugging it off pretty easily all things considered. He does however, explode into a fit of rage when people mess with those he considers his friends, including his Pokemon companions. He isn't over-the-top when it happens, but he will react. He is not above attacking people to defend others and gets highly protective and defensive of those he considers close to him. Felix also doesn't seem to care for the morality of others, even if they're using him. He has his own reasons and he'll stick to them. If Felix had his morality rated, he would land on neutral evil.

Felix does have a bit of a violent, sadistic streak in himself when it comes to people who simply and flat out piss him off. He'll show aggression, quick to mock them and taunt them without warning or reason. He seems to enjoy making off-hand, uncalled for comments towards whomever has angered him. This sadistic streak also ties into his masochistic nature, deriving pleasure from pain caused to him physically by others. He does seem to enjoy causing pain to others but does not take any kind of pleasure in doing so, as he feels it shows off his more psychotic side than he'd appreciate.

Felix lacks direction and motivation in life. He often finds himself following in the footsteps of those before him. He doesn't particularly crave any sort of direction, instead simply wants to exist. He'd equate himself to a cloud, envious that all they do is float by and go with things. He feels like going with the flow and seeing where it takes him, simply because he lacks the motivation do decide what he wants from life. What he wants to do with himself. So even though Felix is the type of person who is entirely out for himself he clings to others for direction, disinterested in the normality that's been provided. Perhaps there will be something that makes this lazy man decide to seize life.

Strengths:



Adaptable

Focused

Durable

Aloof

Weaknesses:


Sloth

Clings to Others

Lack of Motivation

Lazy

Sadist

Masochist


Battle Style: Felix remains calm and aloof during a battle, never giving an inch even when being beaten back. He likes to keep his options open, avoids communicating or taunting an opponent to focus on the fight at hand. He'll keep type advantages, along with the strengths and weaknesses of the Pokemon he currently has on the playing field. He isn't above surrendering if he sees that he can't win, willing to take the time to think about what went wrong and improve from it. As a new trainer, Felix does not have strong preferences for any typing or battle style as he lacks the experience to perfect fighting in a specified style. However, he can be rough during fights and persistent.


---




Background



History: Felix, for as long as the boy could recall didn't have much in terms of direction. Even as a child he was pretty disinterested in everything, only going along for something to do and because these people were his friends. He did like his home, it was really great living on an island in his opinion. He especially enjoyed traveling between the different islands. But perhaps his most enjoyable event was when people came to participate in the Orange League. He loved watching the trainers that would come in and perhaps a part of him wanted to become a Pokemon trainer some day. There wasn't much else driving him honestly throughout his childhood, so he kept it in the back of his mind as he grew up.

Since he lacked a real direction, Felix turned to traveling. He made a bit of a name for himself as the years went by, people recognizing him as Carver, an infamous fighter. It was true that he certainly had been fighting, and people seemed to be attracted to fighting him. He didn't care, fighting them if they wouldn't let up and then moving on, refusing to stay around people like that. He hated them, and eventually developed his sadistic and masochistic psychotic tendencies. He started associating his own pain during fights as pleasure and enjoyed the taunting and trashing he would give opponents.

Eventually after years of travel, Felix found himself in the Kalos region. He felt like he was run ragged, nothing left. He grew sick of the consistent fighting, having grown disgusted by the annoying attempts people made against him. It was here that he seen a strange person and decided to approach them, thus beginning his journey as a Pokemon Trainer. Perhaps he might finally find his motivation as a trainer is what he thought as he set off. Nothing was set in stone, Felix would find all the motivation he craved or he would keep trying with his Pokemon.
Defining Moments: None


---
Other Information


Starting in Kalos.

Able to use Aura.

Admin





Posts

: 88


Join date

: 2015-10-21


Age

: 23



Items

Money:
8000


Items:

5  Pokéballs
Medicine:

3 Potions

8 Rare Candies

5 Sweet Hearts

2 Lava Cookies

1 MooMoo Milk
TMs and HMs:


TM Voucher(Halloween Event 2015)

Berries:


-

Key Items:


-

Misc Items:


-

---
Awards and Recognition
Gym Badges and Battle Awards:
Kanto:


-

Orange Archipelago:


-

Johto:


-

Hoenn:


-

Orre:


-

Sinnoh:


-

Unova:


-

Kalos:


-

Poketopia:


-

Contest Ribbons and Competition Awards:
Kanto:


-

Johto:


-

Hoenn:


-

Sinnoh:


-

_________________
Information
||
Tracker
Wi҉̰̼̳̮̤̼l̯̪l̻͞ ͇͖͔̞͉̗y̞̫͈o̡̙u͙̻͍͕ ͉l̶̫̻e̪͎̖a̬̳̣̟͍̜̳͠d̡͕ ̵̘͍̯m̗̯̭̼ͅe̩͕͢?̖͙͕̜͈̰
it's a beautiful day outside. birds are singing, flowers are blooming. on days like these, kids like you...
Pokémon

Pokémon: Cubone
Nickname:
Gender: Male
Personality: Quiet but harsh, he doesn't take to confrontation well. Because of this, he keeps to himself and his team rarely interacting with others. In battle, he can tend to go overboard with the fight, often neglecting to empathise with his foe.
---
Original Trainer: Felix Carver
Ability: Lightningrod
Level: 6
Moveset: Growl, Tail Whip, Double Kick [EM]
Happiness: 10
Exp: 1


Last edited by Avaritia on Sun Oct 25, 2015 9:38 am; edited 1 time in total
_________________
Information
||
Tracker
Wi҉̰̼̳̮̤̼l̯̪l̻͞ ͇͖͔̞͉̗y̞̫͈o̡̙u͙̻͍͕ ͉l̶̫̻e̪͎̖a̬̳̣̟͍̜̳͠d̡͕ ̵̘͍̯m̗̯̭̼ͅe̩͕͢?̖͙͕̜͈̰
it's a beautiful day outside. birds are singing, flowers are blooming. on days like these, kids like you...
Post Archives:
Spoiler:

Avaritia wrote:Hmmm, yes. A rugged outcast not afraid to fight and finding pleasure in pain. Clearly a man of brawn searching for a purpose. Unyielding and apathetic, truly a fighter. I believe these Pokemon may make good partners.

Striker wrote:Cubone, Male with the EGG Move Double-Kick. No nickname.
_________________
Information
||
Tracker
Wi҉̰̼̳̮̤̼l̯̪l̻͞ ͇͖͔̞͉̗y̞̫͈o̡̙u͙̻͍͕ ͉l̶̫̻e̪͎̖a̬̳̣̟͍̜̳͠d̡͕ ̵̘͍̯m̗̯̭̼ͅe̩͕͢?̖͙͕̜͈̰
it's a beautiful day outside. birds are singing, flowers are blooming. on days like these, kids like you...
Topic archived on request.
Request reference:

Junkrat wrote:Request: Archive topic and delete this post upon archive.
_________________

Eve Iridescence~
||
Character Tracker~
Eve
Guild: Hunter
Weapon: Bow, arrows, daggers
Armor: Regular clothing, lightly armoured
Money: 1 Silver, 86 Coppers
Items:
Status: Healthy

Bank: N/A
Items: Handkerchiefs, drawing pad, pencils
Trainer





Posts

: 441


Join date

: 2015-11-04


Age

: 17


Location

: In paradise~





Similar topics
---
Permissions in this forum:
You
cannot
reply to topics in this forum